The state Democratic Party raised more than $23.6 million last year, nearly 2.5 times more than the $9.8 million accepted by the state GOP.Year-end fundraising and spending reports filed by the parties for their regular state and segregated accounts show the Democrats spent more than $24.7 million and had cash balances totaling $552,710 as of Dec. 31.The reports showed the state Republican Party's regular and segregated accounts spent more than $9.9 million and had cash balances totaling about $449,900 as the end of the year.The 2020 fundraising figures represent the first election year since 2008 that the state Democratic Party raised more than the state Republican Party (see bar chart).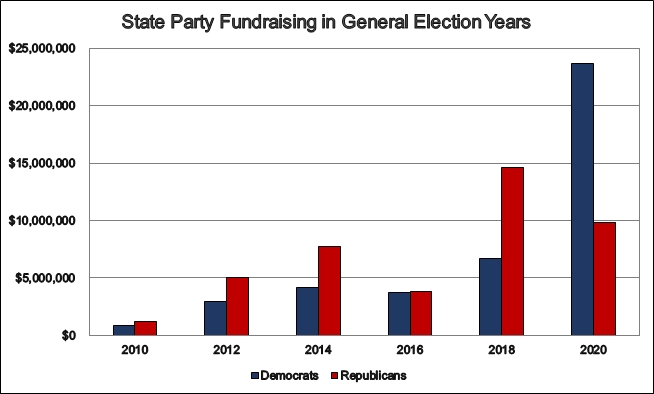 Fundraising by the two major state parties combined has skyrocketed in recent years, from more than $2 million in 2010 to about $33.5 million in 2020.
The leap in fundraising is the result of sweeping changes to campaign finance laws enacted in 2015 by former Republican Gov. Scott Walker and the GOP-controlled legislature. Those changes included allowing individuals to give unlimited amounts to political parties (the old limit was $10,000) and allowing political parties to accept contributions from corporations for the first time in more than 100 years.
In addition to the final fundraising and spending tally for 2020, the latest campaign finance reports detailed financial activity by the parties between Oct. 20 and Dec. 31. Earlier reports filed throughout 2020 detailed previous fundraising and spending.
GET THE MORNING HEADLINES DELIVERED TO YOUR INBOX
Most of the contributions during this final 10-week period in 2020 to both parties came from candidate and political action committees. The Democrats received more than $3.6 million from political committees, compared to more than $3 million for Republicans.
The reports also showed the Democrats raised 34 times more in individual contributions than the Republicans – about $878,544 versus about $25,740 – between Oct. 20 and Dec. 31.
Between Oct. 20 and Dec. 31, the state Republican Party received only one large individual contribution: $25,000 from Robert Greenheck, of Weston, owner of Greenheck Fan Corp. All of the other individual contributions to the GOP during this period were under $100.
Meanwhile, the state Democratic Party had more than two dozen individual contributions of $10,000 or more between Oct. 20 and Dec. 31.
The top contributors were:
Stacey Herzing, of San Juan Capistrano, Calif., a retired Herzing University executive, $125,000,
Robert Rubin, of New York City, a former U.S. Treasury secretary, and his wife, Judith, $100,000 ,
Lynde Uihlein, a Milwaukee philanthropist, $50,000,
Tim Disney, of Los Angeles, Calif., an independent screenwriter and filmmaker, $50,000,
Michael Sacks, of Chicago, Ill., chief executive officer of Grosvenor Capital Management, $50,000,
Dale Leibowitz, of Madison, founder of the Purple Moon Foundation, $50,000.